In my search for the most perfect spot in North Carolina to view the eclipse, I thought I'd check out our tallest point. After all, the tallest should be the clearest, most unencumbered vista around.
Mt. Mitchell.
That would be me on the left, sitting, catching my breath from hiking up from the parking lot, thin air and all.
When I taught fourth grade, our social studies curriculum emphasized North Carolina, and Mt. Mitchell, the highest mountain east of the Mississippi River was one of the major topics. Dr. Mitchell's body is buried there at the peak, near this lookout point. It is now a
state park
, accessible from the Blue Ridge Parkway mile marker #355, about thirty miles from Asheville.
Here's the view from that lookout point. Majestic, isn't it? Imagine this same view with a solar eclipse overhead. 98.1% blockage. There's plenty of parking, assuming you don't mind walking extra far in case the closer parking lots are filled to capacity. Plus only so many people can fit on the lookout platform. But, then again, well worth the trip if you don't mind close quarters. Be sure to pack a sweater. When the sun goes dark, the temperature will drop significantly up there (in my un-expert opinion).
Further in our fourth grade studies we discussed the grand argument between geologists as to if Mt. Mitchell was really the tallest, or was Clingman's Dome, a mountain straddling western North Carolina and Tennessee. Mitchell won, but the dome claims the distinction of being the highest point in the Great Smoky Mountain National Park.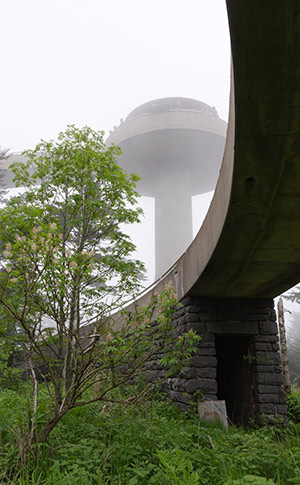 I borrowed this picture of the viewing platform from their website.
I have walked (more like puffed) all the way to the top.
With the same percentage blocked as Mt. Mitchell, it would be an equally amazing experience come August 21. However, from what I've heard on the news, the traffic will be contained so as to keep the national park safe from the anticipated heavy load. Do I really want to go there? Yes, either place. Am I going to? I don't think so.
I'll keep searching.
Catch of the day,
Gretchen