A day in the life of a writer...Sit in front of the computer for hours and hours, writing a book proposal, researching books in print, more writing, more researching, you get the idea.
Then a break, a joyous break. I was speaker at the monthly meeting of the Salem Ruritan Club. Ruritan National is a civic service organization designed for small rural communities. Their motto "Fellowship, Goodwill, and Community Service" came through at last night's meeting at their clubhouse near Salem School in Burke County.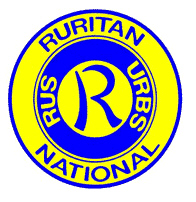 I felt right at home during the fellowship time and even more so when I realized the menu for supper included as the main course, livermush. I thought perhaps they had selected that as a courtesy to me and my Lessons Learned mention of livermush. But no, this was the "poor man's country fried steak," as the cook for the night explained to me, and one of their favorite meals.
Since this club is a part of the community where Pilot Mountain School was located, every person there was familiar with my book. I had not interviewed any of these particular men because none of them had attended there, but they recognized every name I mentioned in my speech. Their children's pictures were in the book. Their wives. Their former teachers.
I was preaching to the choir only this choir knew more about the school than I ever will.
The greatest discovery about the night? Not the new friends I made. Not the books I sold. It was the stove in the kitchen where the livermush was fried.
One member of the club who was present last night was also a member of the club the day the school closed. He was with the other members when they bought the stove from the school system and installed it in the clubhouse where the meeting was held last night, the very stove in the very cafeteria I had written about, lived with in my brain for three years.
Strange experience, eating livermush cooked on that exact stove. I felt, no, it's more like I tasted and smelled a connection to the children of that school like I had not felt during those years of fact finding research.
A powerful night. I was humbled.
Catch of the day,
Gretchen